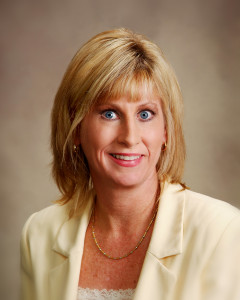 Ms. Joan Coffman is the President & CEO of HSHS St. Joseph's Hospital in Chippewa Falls and the Vice President for Physician Relations of the HSHS Division (Western Wisconsin).  HSHS St. Joseph's Hospital is part of Hospital Sisters Health System (HSHS), a fifteen hospital system which operates in Wisconsin and Illinois.  Ms. Coffman joined the organization in 2008 as Chief Operating Officer and was named President and CEO in April of 2010.
Originally from New Orleans, Louisiana, Ms. Coffman worked with Tenet Healthcare Corporation as Assistant Administrator of Lindy Boggs Medical Center in New Orleans until 2005 when it closed due to flood damage sustained in Hurricane Katrina.  She also served as Chief Executive Officer of the Lousianna Clinic, a multi-specialty physician clinic in New Orleans.  She holds a Master of Business Administration degree from the University of New Orleans.  She is a fellow of the American College of Healthcare Executives (ACHE).
Ms. Coffman serves on the Board of Directors of the Wisconsin Hospital Association (WHA) and the American College of Healthcare Executives Wisconsin Chapter. She is a member of Governor Walker's Opioid Task Force representing both WHA and HSHS, and will serve on the WHA Board Subcommittee on Health Care Reform in 2017. She is also a member of the Rural Hospital Issues Group of the Federal Office of Rural Health Policy and WHA's Council on Public Policy, President of WHA's West Central Region, and Chair-Elect of the Governing Council of the American Hospital Association (AHA) Section for Small or Rural Hospitals. Locally she is active in a number of community organizations, serving as a board member for the United Way of the Greater Chippewa Valley, the Chippewa Falls Family Support Center, and the Chippewa Valley Technical College Foundation.