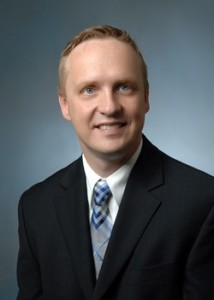 Ryan is the current President and CEO at Memorial Medical Center in Neillsville, Wisconsin. Ryan is a native of Youngstown, Ohio and holds a Bachelor's of Science Degree in Occupational Therapy from Shawnee State University in Portsmouth and an MBA from Ohio University, in Athens, Ohio. He is a Fellow in the American College of Healthcare Executives, a surveyor for the Commission on the Accreditation of Rehabilitation Facilities (CARF) and certified in Neurodevelopmental Therapy.
Ryan began his career as an occupational therapist at Marietta Memorial Hospital in Marietta, Ohio. During his ten years in Marietta, Ryan's desire for clinical advancement provided opportunities for new program development specifically for the quality of life for individuals following stroke, brain, and spinal cord injuries. Additionally, Ryan led community efforts focused on disability awareness, which included the regions first competitive wheel chair basketball team. Ryan was awarded Ohio's 2006 Healthcare Worker of the Year.
In 2007, with the goal to work in a tertiary referral hospital, Ryan accepted the position of Patient Care Director of Rehabilitation, at Ministry Saint Joseph's Hospital in Marshfield, Wisconsin. Continuing the program development mindset, Ryan was instrumental in spear heading the Primary Stroke Program, Hyperbaric Medicine, Inpatient Pediatric Rehabilitation, and Bariatric Center of Excellence.
In August 2013, Ryan accepted the role as Chief Operating Officer at Memorial Medical Center in Neillsville, WI.as a 6 month succession plan under then interim CEO David Baltzer. Since March 2014 Ryan is the President and CEO and has launched a new strategic plan focused on Access, Service Line Development, Financial Stability, and Community Partnerships. Memorial Medical Center has experienced early success under Ryan's Leadership.