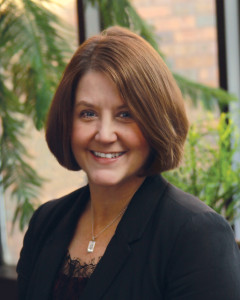 Toni Simonson is the Senior Executive of Human Service Operations, at North Central Health Care in Wausau, Wisconsin. Toni joined North Central Health Care in 2000 and has oversight responsibilities of the organizations mental health, substance abuse, and developmental disability services. She develops and implements initiatives to improve the quality of care delivered and expand the continuum of care throughout the organization.
Toni holds credentials as a Licensed Professional Counselor and a Substance Abuse Counselor and is a Fellow in the American College of Healthcare Executives. She holds two Master of Science degrees, one in Human Resources and the other in Guidance and Counseling. Toni will complete a PhD in Health Psychology in December of 2014.
Being active in the community is of critical importance. Toni is a board member for the Marathon County Alcohol and Other Drug Partnership, on the Leadership Committee of United Way's Housing & Homelessness Initiative and a board member of Healthy Marathon County. Additionally, she is an Adjunct Faculty member at Northcentral Technical College teaching Advanced Counseling Theory & Tactic courses.
Toni has been married to her husband for 32 years and they have two adult children, a 29 year old son and a 25 year old daughter.