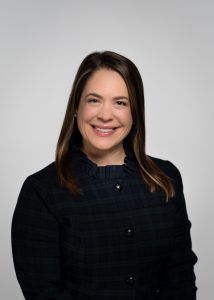 Alexandra Urrutia-Comas is the Vice-President of Operations for Aurora Sinai Medical Center. Aurora Sinai Medical Center is a comprehensive community hospital providing state-of-the art services and a strong focus on supporting greater racial equity and civil rights. Sinai is part of Advocate Aurora Health.
Alexa has operational responsibility and accountability for Ancillary Services departments, Support Services departments, and hospital-based departments. She is actively engaged in the development and implementation of the Medical Center's strategic direction, fostering relationships and collaboration with internal and external partners to determine strategic opportunities and programmatic growth. Alexa is accountable for clinical quality, patient experience, patient safety, team member and clinician engagement, and financial stability.
Prior to her current role, Alexa served as Senior Director Administrator of Clinic Operations for Aurora Heath Care Medical Group in Greater Milwaukee. In this role, she oversaw over 200 physicians and advanced practice clinicians across 20+clinic locations and was responsible for physician practice management, physician recruitment, physician relations, program growth and development, and engagement, among others. Before her journey at Advocate Aurora, Alexa was Director of Operations Improvement at Wheaton Franciscan Healthcare. Her healthcare journey in WI began with an Administrative Fellowship at the Clement J. Zablocki VA Medical Center, where she then became the Administrative Officer for the Medicine Division.
Ms. Urrutia-Comas is the current president of the ACHE-WI Chapter. Prior to this role, she was the ACHE-WI Chapter Programming Committee Co-Chair. Alexa has been a member of ACHE-WI and on the board since 2008. Ms. Urrutia-Comas received the ACHE-WI Diversity Champion Regent's Award in 2019 and the ACHE-WI Early Careerist Regent's Award in 2015. She is also a graduate of the WI-ACHE Chapter's Leadership Development Program (2013).
In addition to ACHE, she serves on the Milwaukee Latino Health Coalition Steering Council and the Community Advocates Board of Directors. Alexa enjoys spending time with her husband (Daniel), her dog (Izzy) and their family and friends, working-out/boxing, trying new restaurants and cuisines, and enjoying everything the city of Milwaukee has to offer.