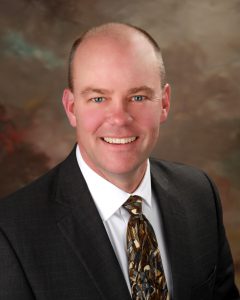 Ken Carlson is Vice President of Business Development & Planning at Sauk Prairie Healthcare (SPH) in Prairie du Sac, Wisconsin.  He has served in this role since 2008, beginning at SPH as planning/marketing director in 2000.  He is responsible for market analysis and strategic planning, new business development, addressing community health needs, and service line management. He provides administrative oversight for marketing & community relations, facilities & environmental services, and the SPH Foundation.
Ken has more than 25 years of diversified healthcare experience involving strategic planning, marketing, managed care, consulting, and senior management in several settings from frontier hospitals to tertiary referral centers.  Ken is a Fellow of the American College of Healthcare Executives.  He serves as the Chair of the WHAIC Board of Advisors and as an ACHE-WI board member. He is a member of the Society for Healthcare Strategy and Market Development and the Association for Community Health Improvement.  He received an MBA from UW-La Crosse in La Crosse, WI and a Bachelor of Arts degree from Ripon College in Ripon, WI where he also served six years as an alumni board member.
Ken and his wife, Daedre, reside in Sauk City, WI and have three children: Emme (21), Evan (19) and Eliot (14).  Ken stays active in the community and has volunteered time and talent on the boards of Sauk Prairie Chamber of Commerce, the Sauk County Public Health Department, Sauk County Development Corporation, the Great Sauk State Trail, and St. John's Lutheran Church in Prairie du Sac.  He was also a member of both the Sauk Prairie and Sauk County Comprehensive Plan steering committees.  In his free time, Ken spends an inordinate amount of time watching his boys play soccer and futsal, and he also snow skis, hunts with his Small Munsterlander and Labrador retriever, and relaxes by cooking more than he can eat.