Virtual F2F: Behavioral Healthcare: Approaches to Increase Value for the Organization and Meet Community Needs
June 9 @ 12:00 pm

-

1:30 pm

$25
Event Navigation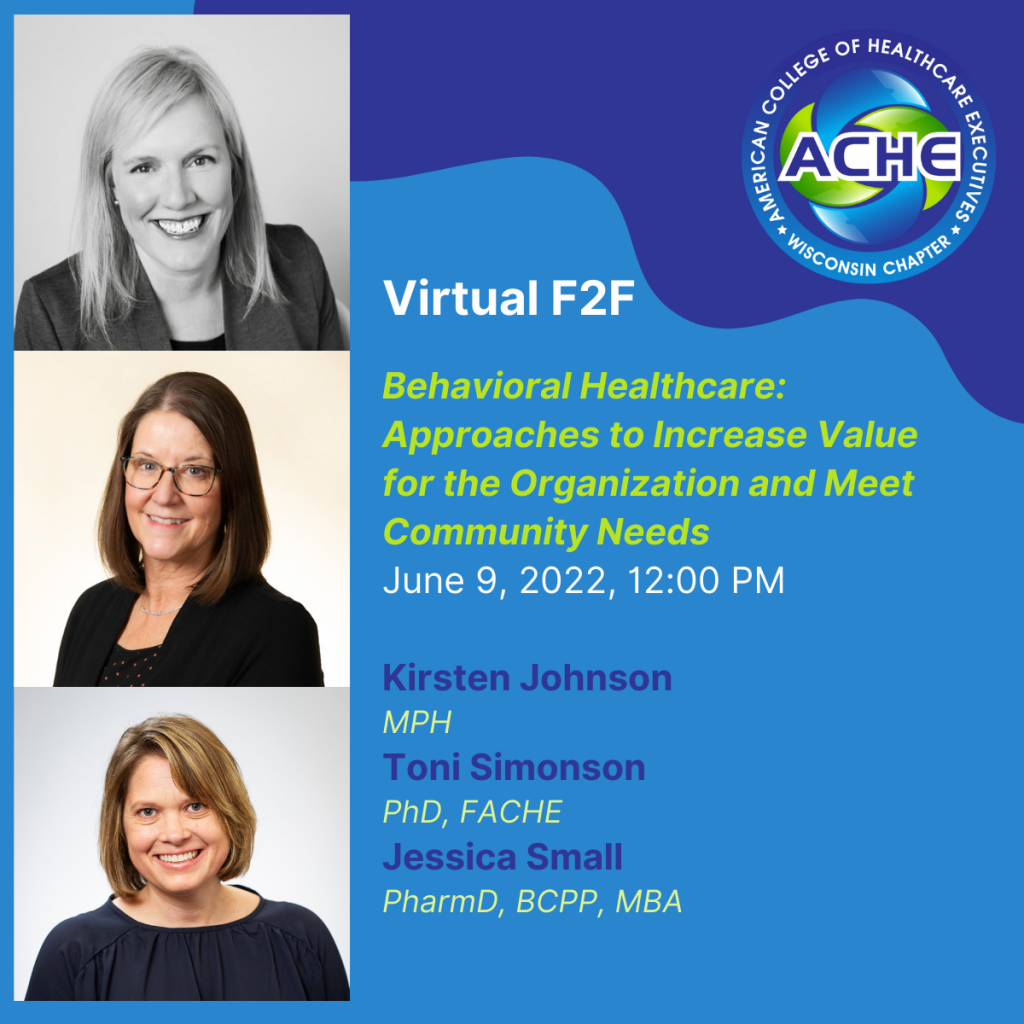 Description
Historically, hospitals and health systems have not always embraced a role in meeting behavioral health needs in communities because managing behavioral healthcare and mental health is very complex. According to the National Alliance of Mental Illness approximately 1 in 5 adults in the U.S.—43.8 million, or 18.5%—experiences mental illness in a given year. The rate of youth with severe depression increased from 5.9% in 2012 to 8.2% in 2015. Nearly half (45 percent) of those with any mental disorder also meet criteria related to having a physical illness or substance abuse. Physical health and mental health issues occur together. For example, people with diabetes or cardiac conditions often develop depression as well. Being able to receive treatment for both conditions through an integrated behavioral health and primary care setting can be especially helpful since how we live our lives (behave) and our physical and mental health all interact with each other in complex ways.
Ultimately, the goals of behavioral health interventions are similar to those of other primary care treatment: helping people function so they can lead healthier, fuller lives. Receiving both behavioral health and primary care treatment in one integrated setting can help people continue to work or attend school, to engage with their families, to participate in their communities, and to be able to thrive. Managing co-morbidities can lead to an increase in cost and potentially a decrease in reimbursement. Mental Health America has reported that while most Americans have access to mental healthcare services through the affordable care act about 56% of individuals with a mental health disorder do not receive treatment. It is noted that in states with low workforce, there is a shortage of mental healthcare providers (psychiatrists, psychologists, social workers, counselors, and psychiatric nurses). As hospitals and healthcare systems begin to make the movement away from volume toward value-based care healthcare executives need to implement best practices to align and coordinate high quality care, reduce utilization in the emergency room, address workforce composition, control costs and meet the ethnic and racial disparities of the community.
Panelists
Kirsten Johnson, MPH, Commissioner of Health, City of Milwaukee Health Department

Toni Simonson, PhD, FACHE, Executive Director – Behavioral Health, HSHS Sacred Heart Hospital
Jessica Small, PharmD, BCPP, MBA, VP Operations – Behavioral Health, Advocate Aurora Health
This session will be moderated by Nick Jaworski, CDE, CEO, Circle Social Inc.

Face-to-Face Credit
This event has been approved for 1.5 virtual Face-to-Face education hour(s).