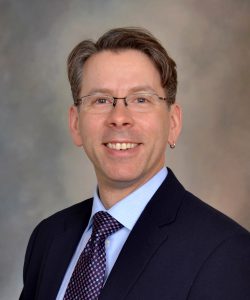 Paul is an Emergency Physician and current Regional Chair of Emergency Medicine for Mayo Clinic's Northwest Wisconsin Region. In that position, he has overall responsibility for emergency care provided at the 5 Mayo Clinic Emergency Departments in the region. He has served in that role since 2011. His main accomplishment in that position has been developing an integrated Emergency Medicine practice within Mayo Clinic throughout Wisconsin, Minnesota and Iowa. Paul has been involved in many other leadership projects including development of the Midwest Admission and Transfer Center and now serving as vice chair of the Transfer Quality Committee.
Prior to his current position, Paul completed his residencies at the Kalamazoo Center for Medical Studies in Kalamazoo, Michigan. After finishing his year as Chief Resident, he briefly joined Kalamazoo Emergency Associates and kept a faculty appointment at KCMS before moving to Menomonie, WI where he lives with his wife, Megan and 2 daughters, Madeline and Lily.
Paul has been a member of the ACHE since 2015 and is a 2016 graduate of the Wisconsin Chapter's Leadership Development Program.