Virtual F2F Session – Sustainable Strategies to Support Resiliency and Professional Well-being for Healthcare Professionals
November 23 @ 12:30 pm

-

2:00 pm

$25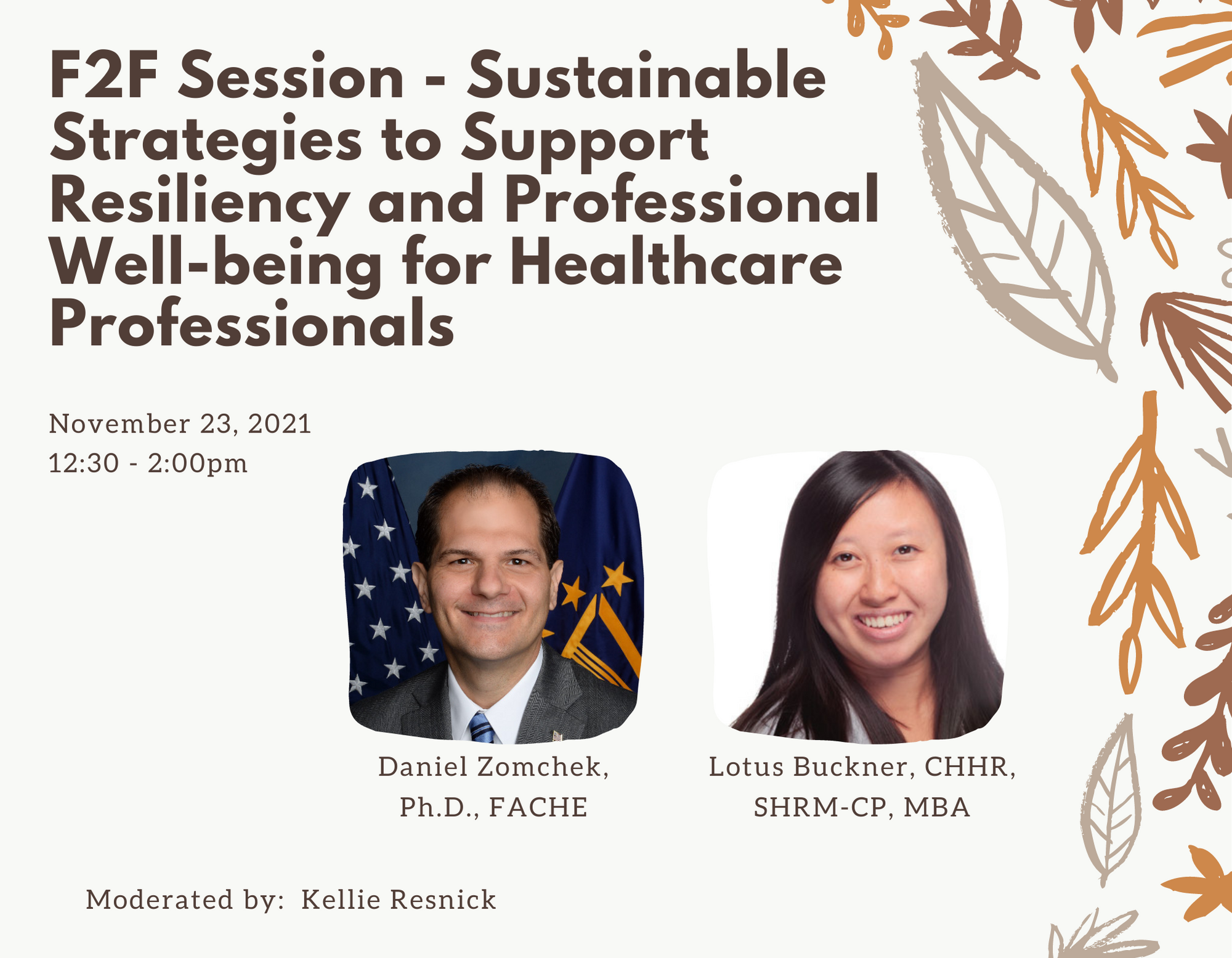 Description
Adverse patient events have been attributed to healthcare staff who have experienced difficulty sleeping, reduced job satisfaction, impaired behavior and anxiety. These attributes contribute to more serious consequences such as burnout, depression, post-traumatic disorder and suicidal ideation. The suicide rate for physicians is higher than that for any other profession, in part because of the stress of medical school, risk for malpractice, sleep deprivation and challenges with work/life balance. Healthcare leaders often struggle with finding long-term solutions to address an important but personal issue for their staff and organization. During this panel, participants will learn sustainable strategies and approaches that will address well-being and resiliency for healthcare professionals in today's healthcare environment. Even when leaders recognize this as a problem, they are often presented with confusing information or get-better-quick solutions that bring no lasting change and can sometimes increase cynicism among employees. During this panel, participants will learn the importance of sustaining well-being for healthcare professionals in today's health care environment
Speakers
Daniel Zomchek, Ph.D., FACHE, Medical Center Director/CEO, Zablocki VA Medical Center
Lotus Buckner, CHHR, SHRM-CP, MBA, Founder & CEO, LB Talent Solutions
Moderated by: Kellie Resnick, Administrative Intern, Clement J. Zablocki VA Medical Center
Face-to-Face Credit
This event has been approved for 1.5 virtual Face-to-Face education hour(s).

This is a member only event. Registration is a two step process.  
Register and pay.
You will be sent a link to register via the ACHE Learning Portal on the following business day. You will need to login to ache.org to complete this step.
Note: We will not be sending out the second link until payment is received. Cost is $25.