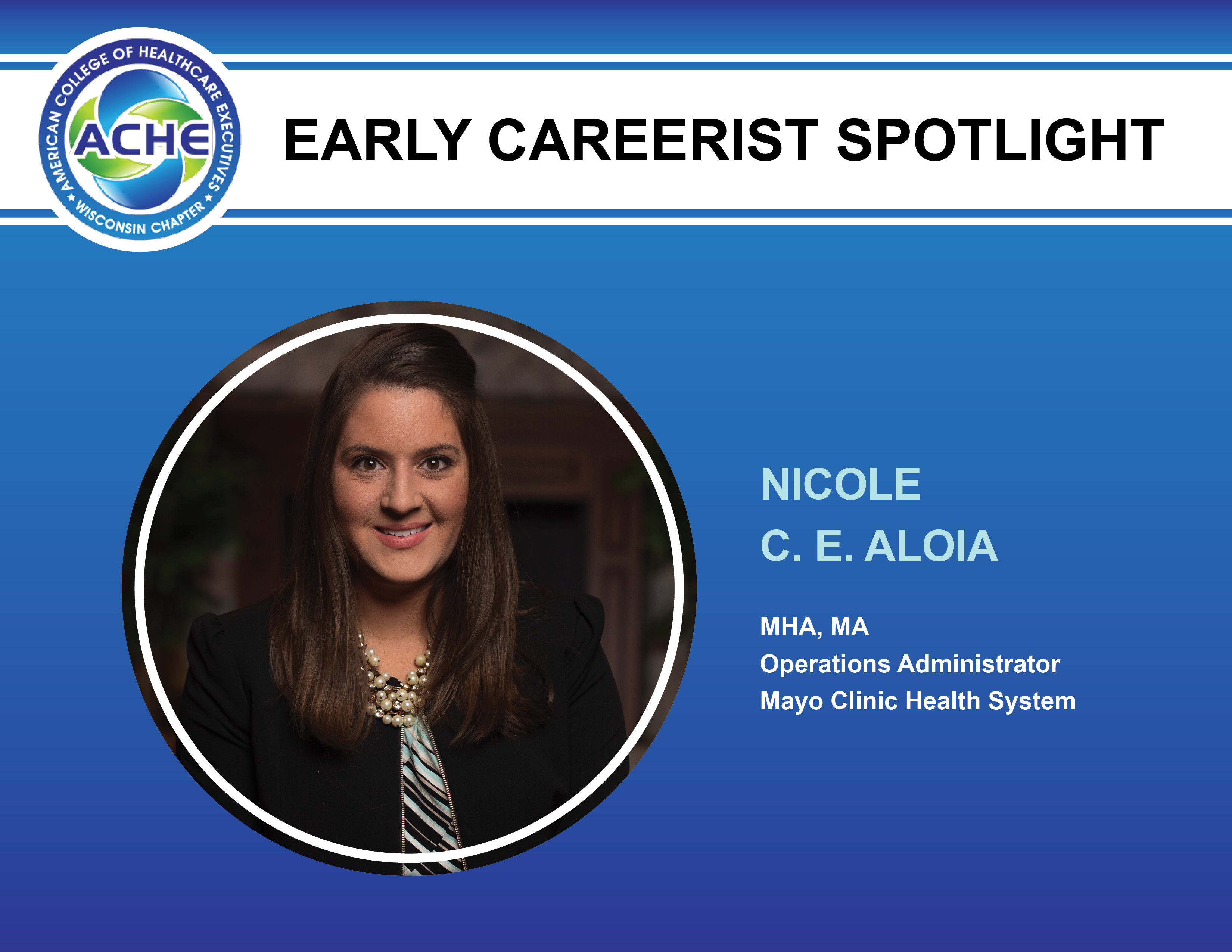 Where were you at in your career when you joined ACHE?
I was an MHA student at the University of Iowa when I first joined ACHE. Not only was I able to attend various ACHE events, but I was also able to attend ACHE Congress in Chicago both years. I saw first hand the opportunities that ACHE provided to me as a student and knew I wanted to continue to be a part of the organization as I proceeded into my career.
Where are you now in your career?
I am currently the Operations Administrator for Medical Oncology & Hematology and Research & Innovation at Mayo Clinic Health System in Eau Claire, WI. Previous to that, I served as the Director of Ambulatory Operations for General Pediatrics & Urgent Care at UW Health.
How have you been involved with ACHE-WI?
Leadership Development Program
How has ACHE been valuable to your career progression?
ACHE has been invaluable to my career progression in numerous aspects. Starting as a student, ACHE allowed me to gain exposure to various healthcare executives that provided key mentorship and professional development. As I progressed in my career, ACHE was a instrumental platform for the ability to network with and learn from healthcare executives across the state of Wisconsin. Most recently, the opportunity to participate in ACHE – WI Chapter's 2018-2019 Leadership Development Program provided key insights, activities, and hands on learning into what it takes to be an effective leader in the ever-changing landscape of healthcare.
Who has been the most influential person in your career?
As my fellowship preceptor at Mayo Clinic Health System in Eau Claire, John Dickey (FACHE) was highly influential in shaping who I am today as a healthcare leader. John not only pushed me to step outside my comfort zone but encouraged me to grow and develop as a well-rounded, servant leader.
What is something that you are working on recently that you are excited about?
In addition to my role as Operations Administrator for Medical Oncology and Hematology, I recently added responsibility as the Operations Administrator for Research and Innovation in Northwestern Wisconsin. This is a relatively new role that seeks to focus on supporting and growing translational work to improve our clinical practice. Additionally, we're partnering with a local academic institution to expand the research knowledge base between clinicians, professors, students, and patients.
What is the best gift that you ever received?
The best gift I ever received was my first horse, Corky, at the age of nine years old who my parents surprised me with at Christmas. This started a lifelong love of horses!