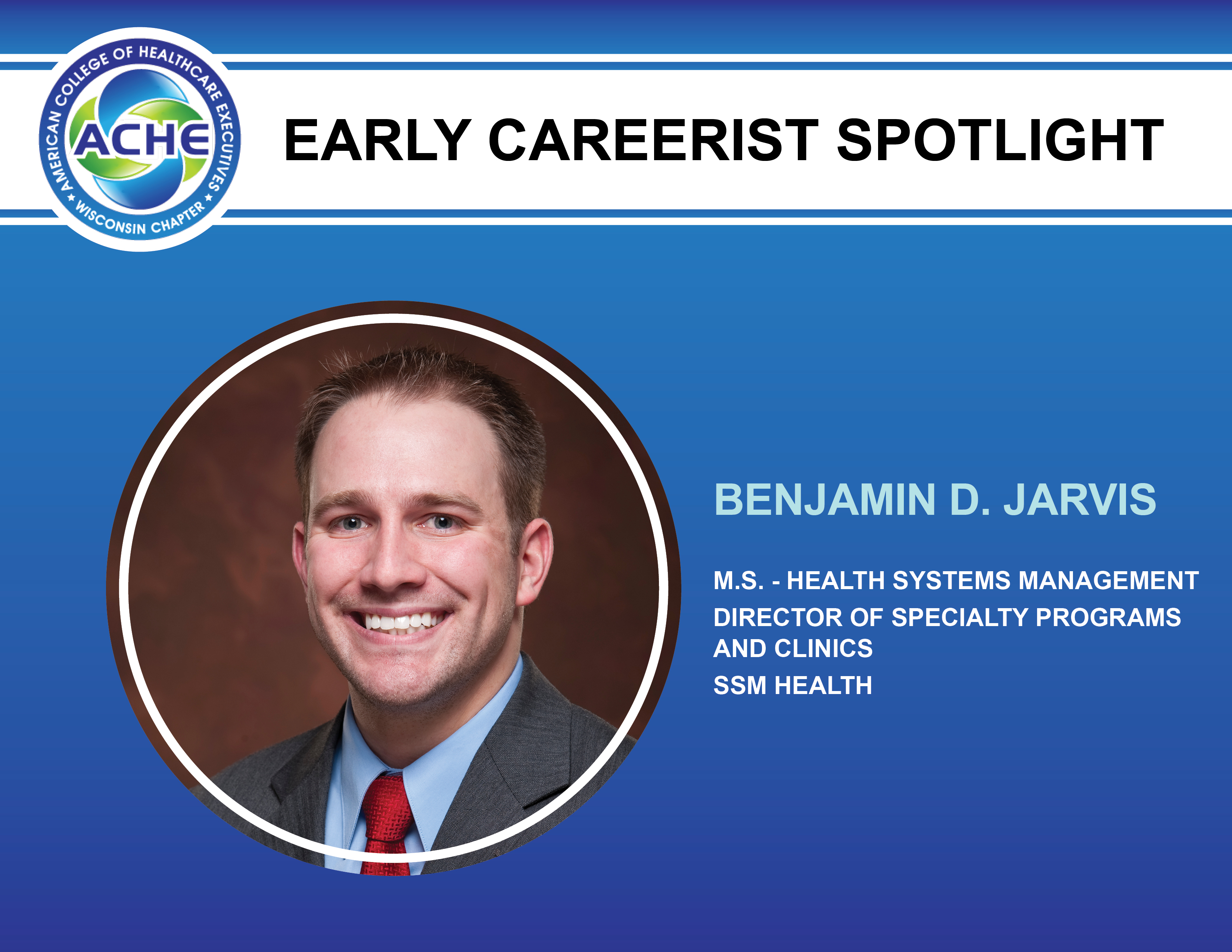 Where were you at in your career when you joined ACHE?
I joined ACHE while I was completing my Health Systems Management graduate degree at Rush University in Chicago. I was able to participate on the Regent's Advisory Council as a Student Advisory Committee member. I also found great value in many of the events put on by the local chapter in Chicago, the Chicago Health Executives Forum (CHEF). These experiences led me to continue my involvement with ACHE-WI upon my return to Madison.
Where are you now in your career?
I am currently the Director of Specialty Programs and Clinics for Musculoskeletal Services with SSM Health Dean Medical Group. Prior to this role, I served as a Clinical Manager in a variety of surgical specialties including Orthopedics, Urology, Plastic and Reconstructive Surgery, and Cosmetic Surgery.
How have you been involved with ACHE-WI?
Leadership Development Program
Program Committee
How has ACHE been valuable to your career progression?
ACHE has truly been an incredible resource to my career progression since day one of my involvement. As a student, ACHE and CHEF provided numerous opportunities to attend networking events, as well as access to a variety of professional development and educational resources. I was fortunate to secure a post-graduate Administrative Fellowship, in part thanks to some of the connections that I made as a student member of ACHE. After moving back to Wisconsin four years ago, the ACHE-WI chapter has helped me to pick up right where I left off in Chicago by allowing me the opportunity to connect with a wide range of leaders in healthcare. Completing the ACHE-WI Leadership Development Program has also had a tremendously positive impact on my growth in healthcare leadership.
Who has been the most influential person in your career?
My father owned and operated a pharmacy for 35 years in a small community in Northern Wisconsin. While those "mom and pop" pharmacies are few and far between these days, watching him serve as pharmacist, HR, legal, maintenance, IT, etc. taught me so many life lessons. Most of all, it instilled in me the value of performing meaningful work while also helping others. I did not take the most direct path into the healthcare field, but thanks to him I always knew in the back of my mind that this is where I would end up some day.
What is something that you are working on recently that you are excited about?
I have just recently transitioned from a Clinical Manager role to a Director level role which in itself is very exciting, challenging, and rewarding. I'm moving back into the musculoskeletal service line which I am very passionate about. In addition, moving from managing a large number of front line and clinical teammates to leading other managers and overseeing even larger scale operations is a challenge that I am very much looking forward to.
What is the best gift that you ever received?
Undoubtedly my two boys! My wife, Meghan, and I have been blessed with two baby boys in the last three years. Charlie will turn three in August and Jordan just turned one in May. They make me the luckiest guy in the world and have been the greatest gift I could ever ask for.