Welcome to 2021! To start the year off right, we celebrated some incredible healthcare leaders in Wisconsin. On January 20, 2021, a virtual ceremony occurred presenting the 2020 ACHE WI Chapter Service and Regent Awards.
Service Awards recognize members' contributions to healthcare management excellence through volunteer service to the chapter, ACHE, and the profession. Service award recipients include:
Exemplary Service Award
Kathleen M. Olewinski, FACHE, Dir of Health Care Admin Studies University of Wisconsin-Milwaukee
Distinguished Service Award
James D. McLain, FACHE, Deputy Director, Clement J Zablocki VA Medical Ctr
Service Awards
William E. Johnson, Jr., LFACHE
Alan S. Kaplan, MD, FACHE, CEO, UW Health
Teresa Lindfors, MBA, BSN, RN, FACHE, VP of Growth & Development,            Stoughton Hospital
James J. Sexton, LFACHE
2020 Regent Awards include:
The Early Careerist Award is given to affiliates of the College who have shown exceptional professional development. The 2020 WI Chapter award was given to Abraham A. Doolhoff, MHA – Manager of Virtual Care and Patient Access to Care at Mercyhealth Wisconsin. Abraham joined ACHE WI Chapter in 2014. Since 2018, Abraham has served on the Program Committee. In 2019, Abraham joined the Podcast Committee, has been instrumental in the process and development of the chapter podcast and serves as the podcast co-host. Abraham also served as a panelist in the October 2019 Face-to-Face Virtual Event: Telemedicine in the Healthcare Delivery System.
This year Chris Woleske, JD, FACHE – President and CEO of Bellin Health, Green Bay, WI, received the Senior Careerist Award. Chris began her role with Bellin Health in 1998, became the EVP and COO in 2016, and moved to her current position of President and CEO in October 2018. A few of her accomplishments include Cardiology Associates, Gastroenterology Associates, and NEW ENT. She has also led Bellin's expansion to Oconto and Marinette. Chris has also volunteered her time serving on the Editorial Board of the ACHE Journal Frontiers of Health Services Management.
ACHE Wisconsin Chapter presented the Diversity Champion Award to Richelle R. Webb Dixon, MHSA, FACHE. Richelle is the new Senior Vice President and Chief Operating Officer for Froedtert Hospital in Milwaukee, WI. Prior to joining Froedtert, Richelle served as system vice president for Common-Spirit Health in Denver, Colorado, where she led strategies to enhance integration and transformation performance in the health system, which spans 21 states.
Richelle is a Fellow in the American College of Healthcare Executives (ACHE) and serves on numerous boards, including the Institute for Diversity and Health Equity. Richelle is also the Past President of the National Association of Health Services Executives (NAHSE), the premier organization for African American healthcare executives. Under her leadership, NAHSE strategically focused on advocacy, innovation, and organizational sustainability. Richelle is also active with the National Association of Latino Healthcare Executives (NALHE).
Recent Events:
ACHE-WI Coffee with the College Podcast
Episode 1: Resiliency – Springing Back (December 16, 2020)
Teresa Lindfors, MBA, BSN, RN, FACHE, Chief Strategy & Business Development Office, Stoughton Health, joined Janet A. Schulz, FACHE, Chief Information Officer, MyPath; Abraham A. Doolhoff, Manager of Virtual Care and Patient Access to Care; and Brian Michalski, Health System Specialist, Office of the Medical Center Director, Zablocki VA Medical Center and chatted about resiliency in the kickoff episode of Coffee with the College.
Upcoming Events:
On February 10, 4:00-5:00 pm, ACHE-WI Chapter will host an interactive member discussion on Telehealth and Innovation with Margaret Paulson, DO, FACP, Hospital Internal Medicine, NWWI Medical Director – Advanced Care At Home, Mayo Clinic Health System and Jamey Shiels, System VP Consumer & Digital Experience, Brand, Consumer Experience & Public Affairs, Aurora Health Care, Inc./Advocate Support Center. The discussion will include how to build a culture that supports innovation and patient engagement.
2021 Physician Leadership Development Conference will offer CME-certified education focused on developing leadership skills, as well as providing a forum for discussion, networking, and collegiality.
Physician Leader Learning Day (March 12, 2021/Virtual)
Physician Knowledge Sharing Event (September 14 & 15, 2021/In-person)
ACHE Qualified Credit As an independent chartered chapter of the American
College of Healthcare Executives, Wisconsin Chapter is authorized to award 6.0 hours
of ACHE Qualified Education credit toward advancement or recertification in the
American College of Healthcare Executives. Participants in this program who wish to
have it considered for ACHE Qualified Education credit should list their attendance
when they apply to the American College of Healthcare Executives for advancement
or recertification.
September 20-21, 2021 ACHE-WI 2021 Annual Conference, The Osthoff Resort
We made it. 2021 is here. May it bring the healing and happiness we all hope for. Continue to stay safe and healthy.
Your ACHE Regent,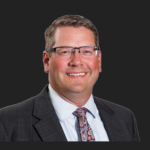 Thomas N. Shorter, JD, FACHE
Regent for Wisconsin
thomas.shorter@huschblackwell.com