Wisconsin Career Development Academy – Resume building – what to do, what not to do and LinkedIn Webinar
June 17, 2019 @ 12:00 pm

-

1:00 pm
Resume building – what to do, what not to do and LinkedIn
Presenter: Sandie Hill-Ferrigno, Regional Senior Human Resources Leader, SSM Wisconsin Region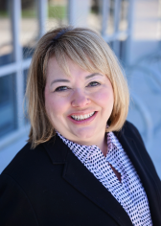 Sandie Hill Ferrigno is an industry expert with more than 25 years of successful Human Resources and Health Care experience.  She has a proven track record of strong strategic and operational skills.  She currently serves as the Regional Senior HR Leader for the SSM Wisconsin region for the acute care hospitals.
Sandie received her Master's in Labor and Employee Relations from the University of Cincinnati.  After graduation she rose through the ranks in healthcare.  She has worked for large health systems such as CHP, CHI and currently at SSM Health.  Her goal has always been to leave a place better than when she arrived and to date has succeeded in that goal.
Sandie is most fulfilled when helping people grow personally and professionally.  She has a proven ability to foster relationships, her opinion is highly sought after; and her judgement is respected and trusted.
Sandie volunteers her time helping the young and elderly.  She is also an Uber driver to her 2 children.  If there is any spare time left, she likes to rejuvenate at the spa.  Sandie  has a keen sense of humor and April Fool's Day is her favorite time of the year.
ACHE Qualified Credit:
As an independent chartered chapter of the American College of Healthcare Executives, American College of Healthcare Executives – Wisconsin Chapter is authorized to award 1.0 hour of ACHE Qualified Education credit toward advancement or recertification in the American College of Healthcare Executives.
Participants in this program who wish to have it considered for ACHE Qualified Education credit should list their attendance when they apply to the American College of Healthcare Executives for advancement or recertification.
About the Academy:
ACHE-WI chapter has a virtual Wisconsin Career Development Academy. The chapter is providing quarterly skills webinars by subject matter experts for early careerists and clinician leaders on career development. Subject matter experts will be available to answer/respond to members' questions and requests for information after the webinar. Articles and resources will be shared bi-weekly to all academy members. ACHE-WI members that complete all four webinars will graduate from the Academy and receive a certificate of completion at the Annual Conference.
NOTE: These webinars are available to members only. We encourage you to join if you would like to participate.