Master Class of Career Management
September 28 @ 12:00 pm

-

October 26 @ 1:30 pm
Event Navigation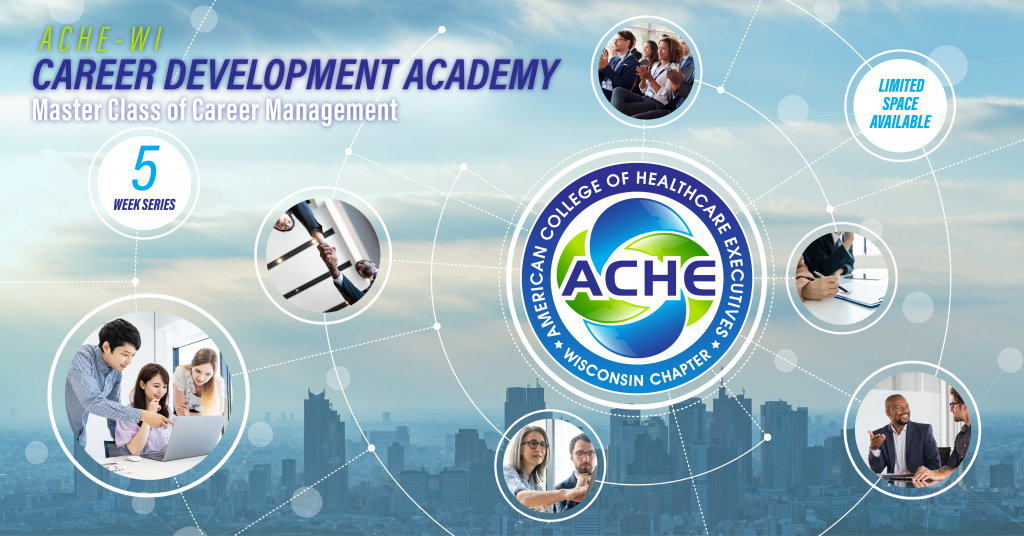 WEBINAR #1 – September 28, noon
Everything I learned about leadership came after I was done being a leader
Robert De Vita, Adjunct Faculty/Lecturer, UWM Lubar School of Business EMBA
How we build your EHR. NOT the electronic health record! Rather building kinship through Empathy Humility (not Hubris) & Resiliency. Think: Band of Brothers (Shakespeare's Henry V, HBO series, Joan of Arc).
WEBINAR #2 – October 6, noon
Actively investing in your personal/leadership development
Anissa Perkins, Assistant Director Leadership Development Field & Talent Performance, Northwest Mutual
It's not that professionals don't want to own their development, many times they aren't sure where to begin or how. In this session Anissa will discuss the differences between personal & professional development (if there are any) and share how to develop a learning strategy that will produce maximum ROI.
Leading and Leadership: Necessary Skills for Different Levels of Leadership
Andy Hillig, PCC, MBA, FACHE, Executive Coach, LAK Group
Developing leadership skills can help you increase certain professional qualities, build and maintain relationships and increase your earning potential. There are many different skills and abilities needed at different levels of leadership. Learning about them may help you understand how to become a better leader in your workplace and advance your career.
WEBINAR #3 – October 10, noon
Leadership and Emotional Intelligence Awareness
Shelley Smith, MBA, ACC, Managing Director Leadership Practice, LAK Group
What is a Leadership Shadow? In general, how self-aware are you? Join this session to revisit Leadership and Emotional Intelligence with a little different twist.
WEBINAR #4 – October 19, noon
Finding Your Path: The Strategic Advantage of Taking the Road Less Traveled
Chet H. Doering III, DNP, MBA, RN, Director, Recruitment and Talent Strategy, Gundersen Health
Chet will provide an in-depth review of his own leadership journey from frontline RN to current Director of Recruitment and Talent Strategy at Gundersen Health System. Through a dynamic career journey, Chet has looked to combine his clinical knowledge with formal business and nurse executive training. Through this presentation, candidates will learn how to tap into their individual strengths and talents while strategically designing a rewarding and fulfilling career.
Nontraditional Healthcare Related Roles
Zach Ziesemer, MBA, Operations Manager, Marshfield Clinic Health System
Roles in healthcare are diverse and ever-changing, and only continue to expand as organizations evolve to meet the increased market demands. If one thing holds true is that the anticipated linear progression and trajectory for one's career doesn't always follow a defined path. In this immersive presentation learn of nontraditional positions and how they can offer transferable skill sets that can be leveraged to support your professional and personal ambitions.
Why your goal should not be to go from mid-careerist to CEO
Betsy Folbrecht, Client Partner Executive, Nordic Global
Discuss why career paths don't always need to be a vertical journey and where diversifying your experience can allow for further growth and development than you might think.
WEBINAR #5 – October 26, noon
LinkedIn is Your 24 Hour Brand
Laura Parrino, Senior Executive Career Consultant, LAK Group
A great profile will ensure that you're always visible and ready for your next career step, internally and externally. Your LinkedIn profile works for you while you're working – answering algorithms, collected and curated by talent professionals and experts in your world. You'll learn the top 5 attributes of a magnetic profile that will attract what you need to be successful in your career.
Career Planning
Andy Hillig, PCC, MBA, FACHE, Executive Coach, LAK Group
We spend most of our lives at work.  So why did it take a pandemic to make 48 million people realize they were tired of showing up at work with "a case of the Mondays?" Over the course of this presentation, you'll learn how to be more deliberate about taking charge of your future.
REGISTRATION
$50  Members
$75 Non-Members
Register once to attend all five webinars. Those that participate in all 5 webinars, we be recognized at an award's ceremony in November/December. Space is limited!